Installation
The Spot
Interactive dive with the whales
From Tuesday to Friday, from 10:00 am to 5:30 pm, Saturday and Sunday, from 10:00 am to 7:00 pm
Take a plunge into a brand new immersive, interactive adventure for an intimate encounter with the world's biggest mammals!
Image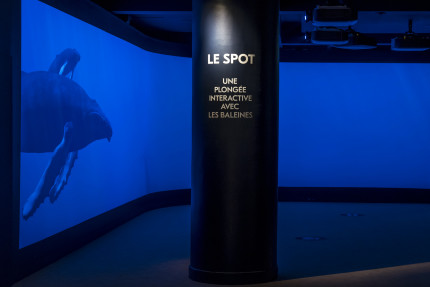 Le Spot. Photo : Anne Volery
© Palais de la Porte Dorée
The "Spot" is a digital wall that invites you to meet cetaceans up close. Alone or as a group, you will take a virtual dive with humpback whales and get the chance to interact with them, thanks to cameras that capture your movements. By observing, moving and just having fun, you will trigger the behaviours of these ocean giants...
Image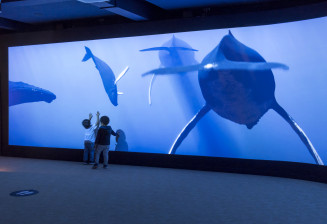 Le Spot. Photo : Anne Volery
© Palais de la Porte Dorée
The marine mammals are projected life-size in a spectacular visual production combining photorealistic 3D modelling and organic animations rigorously verified by a scientific committee.
Image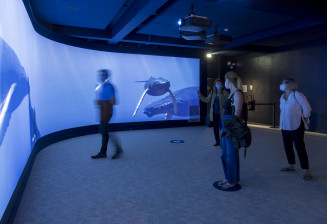 Le Spot. Photo : Anne Volery
© Palais de la Porte Dorée
Created in partnership with the Canadian company CREO, the range of scenarios presented by the Spot will gradually be added to. Watching humpback whales and belugas feed, helping to babysit baby whales, all these (contactless) actions aim to nurture an active understanding of these very special societies of large marine mammals.
Your impressions and reactions will be gathered regularly to help us improve the show. In other words, you will be helping with the development of this innovative project.
---
An installation presented by the Tropical Aquarium and
CREO
, a Canadian production agency specialised in the creation of digital experiences.
Design: CREO, Tropical Aquarium
Production: CREO
Engineering: François Tourny Ingénierie
Equipment: IRELEM
Financial partners: Canada Media Fund, Ile de France region, Société des Arts Technologiques, Quebec Centre for Biodiversity Science.
No whales were harmed in the making of this animation.