Flood plains
Image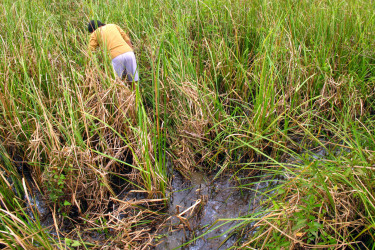 Flood plain in Thailand
© Frederic Fasquel
What is a swamp?
A swamp is land that is regularly covered with water. Alternating dry and wet periods cause a big variation in humidity. Likewise, the temperature changes considerably according to season and water supply. When it is present, the water doesn't circulate much, or not at all. The water's lack of movement causes a low level of oxygenation, along with deposits of suspended particles brought by high water or floods. So the bottom of swamps is very muddy and the water very murky.
Image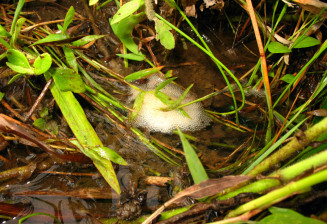 Bubble nest of Betta imbellis in a flooded meadow
© Frédéric Fasquel
Plant life there is often abundant, sometimes consisting in small trees. It develops there but decomposes on-site. Sometimes, this decomposing organic material can accumulate, decomposing incorrectly through lack of oxygen or low temperatures. This phenomenon can lead to the formation of peat bogs, or even layers of coal millions of years later. The roots often remain underwater and emerge in certain places to exchange gases with the atmosphere.
The biggest tropical swamps can be observed in Indonesia, the Congo basin, the Amazon basin, the Pantanl region in Brazil and in the Louisiana bayous.
Which species can be found there?
So living conditions in swamps are very difficult. However, the animals who live there have adapted to this murky, under-oxygenated environment, subjected to regular droughts and big temperature changes.
Image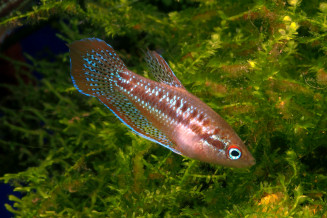 Trichopsis pumila male from Thailand
© Frederic Fasquel
Image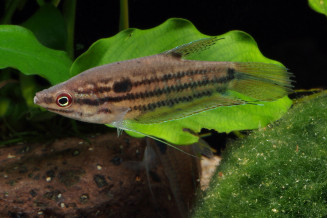 Wild Trichopsis vitata from Sakon Nakon
© Frederic Fasquel
Image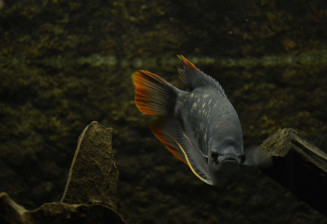 Osphronemus laticlavius
Photo : Déodat Manchon © Palais de la Porte Dorée
For example, gouramis have developed the ability to breathe dioxygen from the air, with the help of a labyrinth inside their heads, which enables them to resist droughts. The snakehead fish is capable of crawling out of the water and crossing dry meadows to find a water hole further away. Piranhas tend to be bad swimmers and hunt from a hide in the cloudy waters. The mangrove killifish, which lives in mangroves and also in swamps, can tolerate drought, temperatures from 7 to 38° and a very varied range of salinity.
Ecosystems
The main aquatic environments presented at the Aquarium